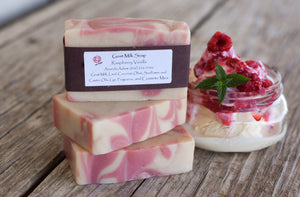 Please note - this is no longer the "parfait recipe" with goat milk yogurt. This bar is now the same recipe as all of my other soaps.....
Raspberry Vanill Goat Milk Soap is a sweet, enticing blend of blackberries, raspberries, floral, musk, and vanilla.
INGREDIENTS: Goat Milk, Lard, Coconut Oik, Olive Oil, Sunflower Oil Castor Oil, Lye, Frangrance, and Cosmetic Mica 
Bars are approx 4 oz, however, they are hand poured and hand cut, so sizes may vary slightly.