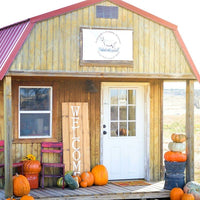 Amanda's Country Soaps
Formerly, Amanda's Country Whims, we pride ourselves in creating luxury self-care products that you can afford. All of our products are hand-made at our farm. We use fresh, raw goat milk from the Saanen breed goats who live on our farm. Amanda has been raising goats since 2009. That year, she also started making handmade soap from the goatmilk. In 2016, we added lotions and lip balms to our collection.
Amanda is most passionate about helping people find the product they love the most.
We are proudly a Go Texan company.
What Our Customers Say
I love Amanda's soaps and lotions! They help with my eczema really well. Amanda was awesome to purchase from, she was prompt and friendly!!

Jennifer P.
Amanda is so great to work with. These soaps and lotions are amazing. They are so nourishing and are a great value.

Jana L.
After using your soap, my skin is softer than it's been in a long time. The scent is very soft and not overpowering so my husband will use them too!

Gina W.
We Are Proudly a Go Texan Business