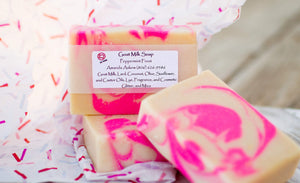 Peppermint frost is a bright, fresh, and fun peppermint! Designed with a hot pink and white swirl, and iridescent, cosmetic grade, skin safe glitter keeps this soap a too seasonal seller!
Ingredients: goat milk, lard, coconut, olive, sunflower, and castor oils, cosmetic grade mice and glitter, and fragrance.
Bars handout, and weigh approx 4 oz.