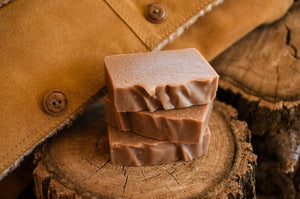 Hickory Suede is a delicious scent for both men and women. It is a much of bergamot, leather, lavender, suede, cypress, sandalwood, topped off with spiced musk, and tobacco. 
These bars are naturally colored brown due to the ingredients. 
Bars are approx 4oz each.
INGREDIENTS: Goat Milk, Lard, Coconut, Olive, Castor, and Avocado oils, Lye, and Fragrance.