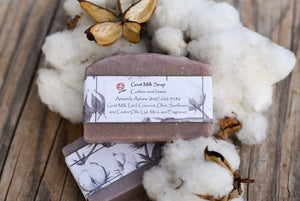 This amazing, Cotton and Iris Goat Milk Soap is the true essence of laundry, line-dried in the billowy breeze, when the world is bursting with freshness! This scent starts out with a strong, clean floral mix of lily of the valley, irises, and cotton blossoms, and is rounded out by the full mix of airy ozone, light musk, and light wood tones!
*Please note the current bars are white, NOT a purple color!
INGREDIENT: Goat Milk, Lard, Coconut, Olive, Castor, and Sunflower Oils, Lye, and Fragrance Oil
Thank you to Savannah Askew at Savannah Askew Photography for this stunning product photo!