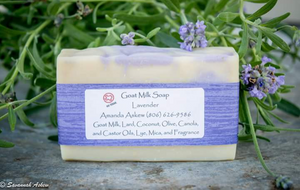 Our Lavender goat milk soap is scented with a synthetic lavender fragrance oil. It is a wonderful, clean, relaxing lavender, without the strong earthy notes of Lavender essential oil. 
Ingredients: Goat Milk, Lard, Coconut Oil, Olive Oil, Castor Oil, Sunflower Oil, Lye, Fragrance Oil, and Cosmetic Grade Mica
*Please not that since the original product photo was taken, that we have now switched to sunflower oil, instead of canola oil. 
Bars are approx 4 oz.