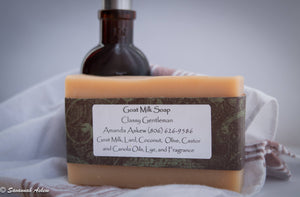 This scent is absolutely loved by men and women both! It has top notes of citrus, followed by middle notes of peppercorn, jasmine, and rounded out with patchouli, cedar, and vetiver. With all the benefits of hydration from raw goat milk, this soap is one of our most popular in our collection.
4 oz.
This product contains: Goat milk, lard, coconut oil, canola oil, castor oil, lye, and fragrance.
This products does NOT contain parabens.