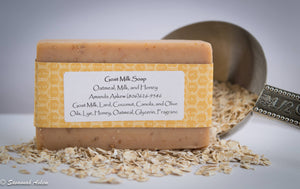 This natural smelling soap is luxurious, hydrating and will leave your skin smelling fresh and delightful. 
Warm, comforting, classic oatmeal, milk, and Honey fragrance. This is our basic recipe; goat milk, lard, coconut oil, olive oil, canola oil, castor oil, lye, and fragrance, with added glycerin, local raw honey, and ground oatmeal. This soap is especially nice as a face soap and is our number one 
best seller, all year round!